Director of the Theoretical and Physical Chemistry Institute Profile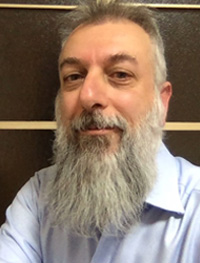 Dr. Tagmatarchis Nikos
Director of the Theoretical and Physical Chemistry Institute
National Hellenic Research Foundation (NHRF)
48 Vassileos Constantinou Avenue
11635 Athens, Greece
Tel.: +30 210.72.73.835
email: tagmatar@eie.gr
Nikos Tagmatarchis is the Director of the Theoretical and Physical Chemistry Institute (TPCI) of the National Hellenic Research Foundation (NHRF) and member of the Board of Directors of NHRF (4/2021). He has been member of the Scientific Council of TPCI (2009-2018), Deputy Director of TPCI (2016-2020), and alternate member of the General Assembly of the Hellenic Foundation for Research and Innovation HFRI (2018-2021). He holds degree in chemistry (1992) and PhD in organic chemistry (1997) from the Department of Chemistry of the University of Crete. He has worked as postdoctoral researcher at the University of Sussex, England, at Nagoya University, Japan, and the University of Trieste, Italy. He has received scholarships from the European Union (Marie Curie Individual Fellowship) and Japan (Japan Society for the Promotion of Science). In addition, he has been Invited Fellow for Long-term Research in Japan (2013-2014 and 2018) and has received a Visiting Professorship for Senior International Scientists (2011-2012) from the Chinese Academy of Sciences.
The research interests of Dr. Tagmatarchis focus on the chemistry of "Carbon-based nanostructured materials and two-dimensional analogues of graphene" for energy applications. Dr. Tagmatarchis and his team conduct cutting-edge research to develop innovative hybrid low-dimensional nanomaterials with custom structural, electronic, photophysical, redox and electrocatalytic properties, aiming to generate "green" energy and targeting technologies with low-environmental footprint. His research activities concern the design, synthesis and assessment of new functional nanomaterials that allow the efficient conversion of solar energy into electricity, as well as the development of innovative electrocatalytic nanomaterials that facilitate the production of hydrogen from water splitting, as well as the reduction of carbon dioxide in "green" fuels.
Dr. Tagmatarchis has long experience in this field of research, having demonstrated scientific excellence certified by more than 260 original scientific articles, monographs, book chapters and books on chemistry and materials science. His work has received more than 15,000 citations accompanied by an impact index of h = 51 (Google Scholar, 4/2021). At the same time, Dr. Tagmatarchis has been awarded the EURYI - European Young Investigator Award - in 2004, and has received the title Chemistry Europe Fellow Class 2018/2019. Since 2020 he is member of the Sectoral Scientific Council (ΤΕΣ) of Physical Sciences & Mathematics of the National Council of Research, Technology and Innovation (ΕΣΕΤΕΚ).
Dr. Tagmatarchis has designed, coordinated and directed a large number of research projects and programs and has received significant external funding from competing programs nationally and internationally for his innovative research. He is Editorial Board Member in the scientific journals Chemistry – A European Journal, Nanomaterials and Royal Society Open Science. In addition, he is International Partner GDR-I (Group-de-Research) of the Scientific Coordination Network "Graphene and Nanotubes: Science and Applications" and of the Scientific Coordination Network "Graphene & Co". He has organized the International Conferences "Carbon Nanostructured Materials – Cnano'09" and "Fullerene Silver Anniversary Symposium – FSAS'10", co-organizes the E-MRS Symposium "Chemical Functionalization of 2D materials" (2022, Strasbourg), and has participated as an International Scientific Committee Member, Local Organizing Committee Member and International Advisory Committee Member in numerous international conferences.
Detailed CV: http://www.eie.gr/nhrf/institutes/tpci/cvs/cv-tagmatarchis-en.pdf
Full publication list: http://www.eie.gr/nhrf/institutes/tpci/cvs/cv-tagmatarchis_list.pdf