Researchers' Representative Profile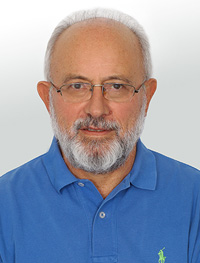 Dr Vassilis Zoumpourlis

Director of Research, Biomedical Applications Unit
Institute of Biology, Medicinal Chemistry and Biotechnology
National Hellenic Research Foundation (NHRF)
48 Vassileos Constantinou Avenue
11635 Athens, Greece
Tel.: +30 210.72.73.730
Fax.: +30 210.72.46.677
email: vzub@eie.gr
Dr. Vassilis Zoumpourlis is Director of Research and Head of the Biomedical Applications Unit within the Institute of Biology, Medicinal Chemistry and Biotechnology of the NHRF. He is a Researcher Grade A since 2013 and is also head of the certified NHRF animal facility.
He obtained his BSc in Molecular Biology and Genetics at University of J E Purkyne, Brno, Czech Republic in 1987, his M.Sc. from the same University in 1988 and his Ph.D. from the Medical School of Crete in 1994. She has practiced research in top Institutions in Europe and USA. In 1992-3 he served as a visiting Researcher in the Molecular Oncology Group in The University of Liverpool, UK, in 1995 in Marie Curie Institute, Paris, France, in 1998 in Sylvius Laboratory, Leiden, Netherlands, in 2002 in the Department of Molecular Biology, Amsterdam, Netherlands. Since 2004 he has also worked in the Mazaryk Institute, Brno, Czech R, in Paterson Institute, Cancer Research, Manchester, UK, & Roy Castle Lung Cancer Institute, The University of Liverpool, UK, as well as in the Comprehensive Cancer Center, University of California, San Francisco, USA. He has supervised 12 diplomas, 8 Master thesis, 20 PhD thesis and 10 Post-Doc Researchers.  Since 2004 he is a Lecturer at Msc classes, Universities of Athens, Patras, Thrace and Crete. The topic of his lectures is based on the molecular mechanisms of cancer and stem cell biology.
The interests of Dr Vasilis Zoumpourlis cover the field of the molecular biology of cancer, mainly the study of genes with a crucial role in the molecular mechanisms of multistage carcinogenesis (initiation, promotion, progression) and metastasis. Recently he has been actively involved in the intriguing research of stem cells and their applications in cancer therapeutics and drug toxicity screening. The current challenge is to develop new generation translational products for cytotherapy-based cancer management and testing of drugs. To this end, Dr Vassilis Zoumpourlis group has recently transferred its long-term experience and know-how in molecular biology of cancer in the emerging field of stem-cell biology, in order (a) to design stem cell-based vehicles for effective and specific tumour targeting and (b) to develop improved in vitro preclinical assays for quick and reliable assessing of toxicology and safety profiles of drugs.
Dr. V. Zoumpourlis has secured numerous grants during his carrier abroad and in Greece that were sufficient to support all his research activities for almost 25 years, with a total funding of more than 1250 K€. He has 76 publications in international peer review scientific journals, 19 publications in refereed proceedings of international conferences and book chapters and 7 Submitted publications in international peer review scientific journals. His published work has a Total Impact Factor, F > 345, citations >3450, h-Index 29. He holds 140 publications in proceedings of Greek and international conferences and 25 publications in Greek.

Detailed CV: http://www.eie.gr/nhrf/institutes/ibrb/cvs/cv-zoumpourlis-en.pdf
Full publication list: https://www.ncbi.nlm.nih.gov/pubmed/?term=zoumpourlis+v