Identification of the sites of interactions of novel neurosteroid analogues which mimic neurotrophin activity and target neurodegenerative conditions and neuroinflammation.
STD-NMR and molecular dynamics simulations have recognized that those microneurotrophins interact with the natural neurotrophins receptors TrkA, p75NTR TrkB and may act synergistically with the native neurotrophins NGF and BDNF. In vitro experiments revealed the synergistic activity.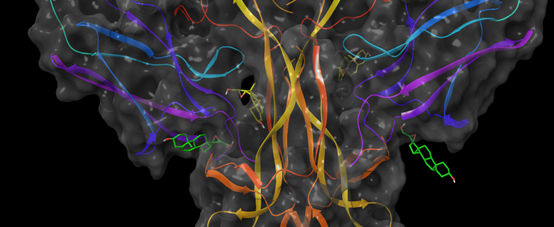 Figure: Binding sites of the neurosteroid BNN27 (in green and yellow) are predicted at TrkA:NGF 2:2 complex interface. The bound ligand reinforces the crucial protein-protein interactions.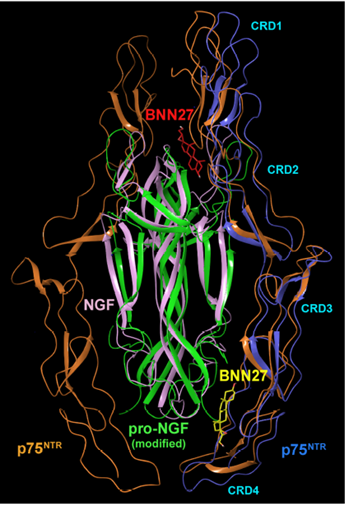 Figure: Sites of interactions of BNN27 at the p75NTR/NGF 1:2 and p75NTR/ proNGF 2:2 complexes. MD simulations revealed the spontaneous penetration of the neurosteroid at the indicated hot spots
Selected Publications
Pediaditakis, I.; Kourgiantaki, A.; Prousis, K. C.; Potamitis, C.; Xanthopoulos, K.P. ; Zervou, M.; Calogeropoulou, T.; Charalampopoulos,  I.; Gravanis, A. BNN27, a 17-Spiroepoxy Steroid Derivative, Interacts With and Activates p75 Neurotrophin Receptor, Rescuing Cerebellar Granule Neurons from Apoptosis. Frontiers in Pharmacology 2016, 7, art. 512
doi: 10.3389/fphar.2016.00512
Pediaditakis, I.; Efstathopoulos, P.; Prousis, K. C.; Zervou, M.; Arévalo, J. C.; Alexaki, V. I.; Nikoletopoulou, V.; Karagianni, E.; Potamitis, C.; Tavernarakis, N.; Chavakis, T.; Margioris, A. N.; Venihaki, M.; Calogeropoulou, T.; Charalampopoulos,  I.; Gravanis, A. Selective and differential interactions of BNN27, a novel C17-spiroepoxy steroid derivative, with TrkA receptors, regulating neuronal survival and differentiation. Neuropharmacology 2016, 111, 266-282
doi: 10.1016/j.neuropharm.2016.09.007
Calogeropoulou T., Avlonitis N., Minas V., Alexi X., Pantzou A., Charalampopoulos I., Zervou M., Vergou V., Katsanou E. S., Lazaridis I., Alexis M., Gravanis A. Novel DHEA Derivatives with Anti-Apoptotic Neuroprotective activity. J. Medicinal Chemistry 2009, 52 ,21,  6569–6587 
doi:10.1021/jm900468p
In collaboration with: Dr T. Calogeropoulou, Medicinal Chemistry, ICB/NHRF, Prof. Achilleas Gravanis & Assoc. Prof. Ioannis Charalampopoulos, IMBB/FORTH & Department of Pharmacology, Medical School, University of Crete
Supporting grants:
H2020-MSCA-ITN-2017- EuroNeurotrophin : A European training network for the discovery of neurotrophins small molecule mimetics as potential therapeutic agents for neurodegeneration and neuroinflammation (2018-2021). (Coordinator: Dr T. Calogeropoulou, ICB/NHRF)
DINNESMIN- RESEARCH-CREATE-INNOVATE, EPAnEK-NSRF 2014-2020. "Pre-clinical development ofinnovative Neuroprotective & Neuroregenerative synthetic micro-neurotrophins for the treatment of Alzheimer disease". (2018-2021)
(Coordinator: Mr. F. Sakellaridis, QUALIA PHARMA / Scientific Responsible: Prof. A. Gravanis, IMBB/FORTH, Univ. of Crete)