Activity A. Proteogenomics profiling of the 3D cell microenvironment for drug repurposing
We exploit the 3D cell microenvironment via exosomal profiling as the means to define the druggable key-players as well as identify and validate candidate companion biomarkers. For this, LC-MSn and high-resolution particle-by-particle 3D fluorescent microscopy measurements are coupled. Exosomes also serve as a toolbox for drug resistance and drug-drug interactions.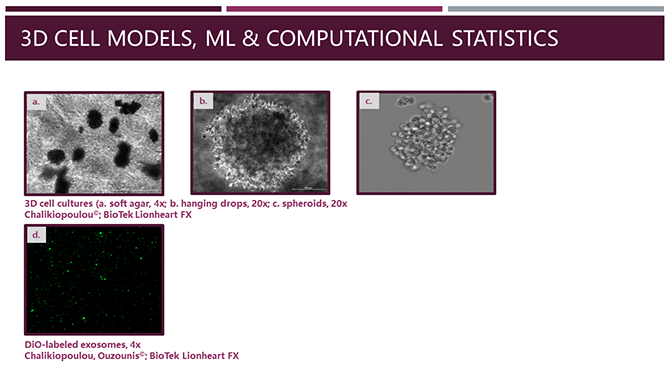 Outreach & Events
Chalikiopoulou C., Katsila T*. Targeted proteomics: Experimental design and data analysis, EMBO Practical Course (web event). 2021
Activity B. ADME-Tox in 3D assays and services in a 3-tier strategy; in silico, in vitro, in vivo (EMA CHMP, FDA Guidance for Industy)
Funded by private funders, industry.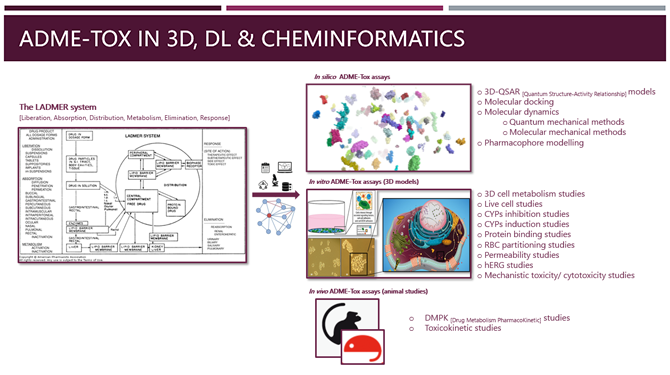 Selected Publications
T. Rogdakis, D. Charou, A. Latorrata, E. Papadimitriou, A. Tsengenes, C. Athanasiou, M. Papadopoulou, C. Chalikiopoulou, T. Katsila, I. Ramos, K. C. Prousis, R. C. Wade, K. Sidiropoulou, T. Calogeropoulou, A. Gravanis, I. Charalampopoulos. Biomedicines, 2022, 10(3):614.
C. Yilmaz, T. Rogdakis, A. Latorrata, E. Thanou, E. Papadimitriou, E. Siapi, K.W. Li, T. Katsila, T. Calogeropoulou, I. Charalampopoulos, V.I. Alexaki. Biomolecules, 2022, 12(3):424.
Outreach & Events
Activity C. CloudScreen, our "one-stop-shop" next generation computational platform for drug repurposing goes beyond existing strategies, as it (a) is not limited to 1D data, but curates/ integrates/ analyzes/ interprets 1D and 3D data coming from molecular design and computational chemistry outputs; (b) minimizes confounding in data mining/ integration/ analysis and promotes unbiased decision-making via the synergy of human and machine (artificial intelligence) reasoning capabilities (i) data mining services, ii) collaboration support services, and iii) decision making services; (c) provides dynamic update capabilities and extends text data services (patents, ethics); and (d) serves as an "one-stop shop" tool for predicting and evaluating the efficacy and toxicity of repurposed biomolecules via ADME-Tox profiling in 3D. This research is supported by the European Regional Development Fund of the European Union and Greek national funds through the Operational Program Competitiveness, Entrepreneurship and Innovation, under the call RESEARCH-CREATE-INNOVATE (project code: T2EDK-03153).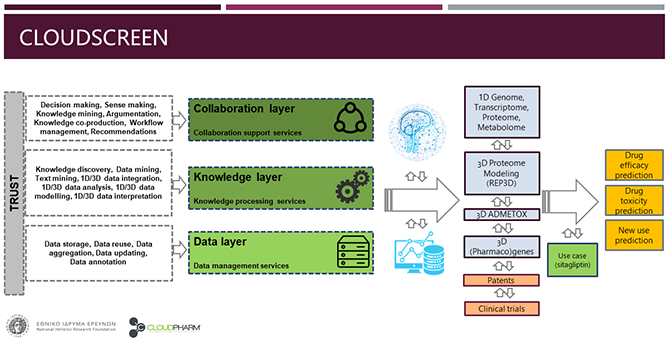 Selected Publications
Katsila T*, Chasapi SA, Gomez Tamayo JC, Chalikiopoulou C, Siapi E, Moros G, Zoumpoulakis P, Spyroulias GA, Kardamakis D. Cancers, 2021, 13(12):2877.
Selected Outreach & Events
Chalikiopoulou C and Katsila T*. EACR 2022 Congress - Innovative Cancer Science: Translating Biology to Medicine, Seville, Spain. 2022
V. Bafiti, V. Panagiotopoulos, M.T. Matsoukas, V. Zolota, D. Kardamakis, T. Katsila*. EACR 2022 Congress - Innovative Cancer Science: Translating Biology to Medicine, Seville, Spain. 2022
Chalikiopoulou C., Katsila T*. Targeted proteomics: Experimental design and data analysis, EMBO Practical Course (web event). 2021
V. Bafiti, M.T. Matsoukas, V. Zolota, D. Kardamakis*, T. Katsila* First ESN-ISN School "From Neurodegeneration to Neural Carcinogenesis: Mechanisms and Common Biologies" [Scholarship to Ms. Bafiti], Athens, Greece. 2021
V. Bafiti, M.T. Matsoukas, V. Zolota, D. Kardamakis*, T. Katsila* 10th International Conference of the Hellenic Crystallographic Association, Athens, Greece. 2021