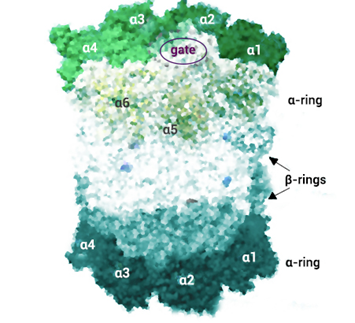 The 20S proteasome constitutes one of the vital cellular proteolytic machineries that maintain protein homeostasis (proteostasis) and participates in almost all cellular functions through the degradation of misfolded, redundant and damaged proteins.  The 20S proteasome consists of two α-rings which control the access to the proteolytic sites located in the two inner β-rings.
Proteasome has been reported to decline in terms of quantity and function during ageing and age-related diseases progression. Thus, proteasome activation constitutes a central mechanism for the deceleration of organismal aging and of the progression of neurodegenerative diseases such as Alzheimer's and Huntington's diseases, which are related with accumulation of toxic protein aggregates.
Although the research towards the development of small molecules as proteasome activators is scarce, the results so far suggest that activation of the proteasome complex constitutes a pioneer strategy for the deceleration of ageing and age-related diseases.
A novel class of hybrid compounds that combine structural features of the natural antioxidant vitamin E and of hydroxytyrosol connected through carefully selected linkers, was designed and synthesized by our group, leading to the development of an optimum structural proteasome activator (MK151) which improved healthspan markers in cellulo and in C. elegans model.
Based on these findings 16 novel hybrid compounds were designed and synthesized. Among them, 5 chroman analogues and 2 benzoxathiine (bioisostere of chroman ring) analogues were identified as structural activators of purified 20S proteasome complex. These compounds represent a new class of structural proteasome activators.
This class of compounds was further exploited by synthesizing more analogues. The biological results to date, from Dr. N. Chondrogianni's group, show great promise with regards to the anti-ageing and neuroprotective effects of the new analogues in cellulo and in organismal level. Moreover, the most studied structural proteasome activator MK151 was synthesized on kg scale and incorporated in cosmetic preparations.
Supported by the following research grants: STHENOS-b 2017-2020 collaboration with members of other research teams of our Institute

RESET: "Bio-inspired antiaging proteasome activators" In collaboration with Intermed SA.